Remembering Barbara Marshall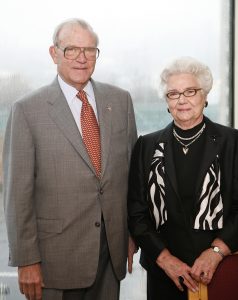 Barbara Hall Marshall was never an artist. She didn't paint, sculpt or weave, and she never claimed to be an art expert. But she had an innate sense of how people respond to art, an enthusiasm for sharing art she loved with the public, and strong commitment to supporting the people who create art.
So it is with deep appreciation that Kansas City's art and civic worlds, as well as employees at Hallmark Cards, Inc., remember Barbara Hall Marshall, who died of natural causes April 21, 2021 in Kansas City, Mo. She was 97 years old.
Trained at the family dining table
As one of three children of Hallmark founder J.C. Hall, Barbara spent many childhood evenings at home with her brother, Hallmark Chairman Emeritus Donald J. Hall, and sister Elizabeth, helping their father review card designs.
"My grandfather recognized that from an early age, my Aunt Barbara had a natural talent for knowing what designs would strike an emotional chord with consumers, and which represented quality and excellence," recalled Donald J. Hall, Jr., Hallmark's executive chairman of the board.
"She had such a finely tuned sense of the consumer, combined with a sharp eye for quality. Being able to tap into such a resource for so many years was a wonderful asset for Hallmark," Don said. "She reminded us to always ask ourselves the question: 'Will it find an audience and will it be meaningful?' Her influence was felt in many positive ways."
A graduate of the University of Kansas, Barbara was married to the late Robert A. Marshall in 1949 and was the mother of three daughters, Libby, Margaret and Barbara Jo, and a grandmother and great-grandmother.
Open to new ideas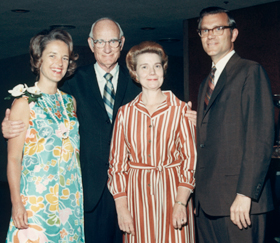 Barbara's training at the family dining table was the foundation for involvement spanning more than half a century in the development of Hallmark products. For many years she was a member of the company's product review committees, assessing cards and specialty products that carried the Hallmark name. She later served on Hallmark's art selection committee, charged with making acquisitions for the Hallmark fine art collection.
"My sister Barbara always brought a vision that was generous and open-minded; a sincere appreciation for the many varieties of the creative process; and – of course – a profound sense of Hallmark's history, culture, and values. The result was a common sense, constructive, and forward-looking point of view," said her brother, Don. "In her quiet way, Barbara guided and confirmed the essential process of our art program. And, on a personal note, her optimism, openness, and constructive spirit set a wonderful and lasting example for all of us."
Sabbatical in her honor
Marshall was steadfast in her support of artists' and writers' efforts at Hallmark. That support took tangible form with the Barbara Marshall Award, established in 1998 to commemorate her 50 years of involvement with the company.
The award grants a six-month sabbatical to senior artists and writers for independent study within a creative discipline of their choice. At the end of the sabbatical, award recipients share their work with peers and colleagues, to provide inspiration and education across Hallmark's creative community.
Twenty-three members of Hallmark's creative team have earned the Barbara Marshall Award since its inception. In 2010, a permanent gallery to display award-winners' sabbatical projects was installed at the company's headquarters as a centennial tribute to Barbara.
Beauty in miniature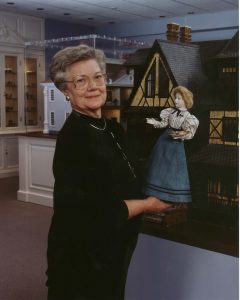 Barbara also was a nationally recognized collector of miniatures, and in 1982 she partnered with toy collector Mary Harris Francis to open their collections to the public. The National Museum of Toys and Miniatures at 5235 Oak on the campus of the University of Missouri-Kansas City, greets thousands of visitors each year and has been described as one of the finest museums of its kind in the world.
Her work with miniatures and the museum earned her a Crystal Award from the International Guild of Miniatures Artisans, an Award of Excellence from the United Federation of Doll Clubs, and status as an Academy Honor member of the National Association of Miniature Enthusiasts.
Barbara's interest in the small and precise extended to nature as well. She grew tiny, highly prized trees known as Bonsai and was a founding member of the Bonsai Society of Greater Kansas City and served as a board member of the National Bonsai Foundation.
Inspiring future generations of artists
She also was a longtime trustee of the Kansas City Art Institute, first elected to the board in 1967 and serving on several of the college's committees. In 1997 KCAI recognized her nearly 40 years of service by awarding her an honorary doctor of fine arts degree.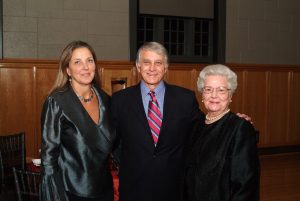 "Through the years, her support for key projects and programs has helped to shape the future of Kansas City Art Institute," said Kathleen Collins, president of KCAI from 1996 to 2011 (pictured at right with Barbara and Herb Kohn). "She was a voice of calm and reason – a friend of the faculty and administration, a volunteer and a leader, a patron who was always with us at the most critical times. She also had a real empathy with students."
"My aunt always said she loved art, but loved even more the people who make art," said Don Hall. "She was a great supporter of the creative community at Hallmark and through her support of arts education and sharing her own personal artistic passions, she helped create a nurturing climate for the arts in Kansas City.  She was a genuine treasure and will be sorely missed."