Barbara Marshall Timeline and Accomplishments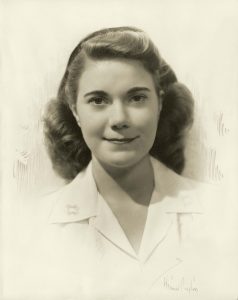 1923 – Barbara Louise Hall was born on Oct. 21, the second child of Hallmark founder Joyce C. Hall and Elizabeth Dilday Hall.
1941 – Graduated from Sunset Hill School. Subsequently attended Bradford Junior College.
1945 – Graduated from the University of Kansas.
1948 – Began work for Hallmark on Jan. 19, starting in the card department at Halls department store in downtown Kansas City, Missouri.
1949 – Married Robert A. Marshall, a lawyer and executive who developed his own import business. Mr. Marshall died in 1983.
1950s-1980s – Member of Hallmark's "OK Committee," chaired by her father, J.C. Hall, which reviewed every card or specialty product produced by the company.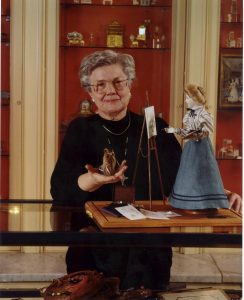 Mid-1960s – Founding member of the Bonsai Society of Greater Kansas City; later served as a board member of the National Bonsai Foundation.
1967 – Elected to the Kansas City Art Institute Board of Trustees. Also served as a member of the college's Fireside, Sketch Box and Vanderslice committees.
1982 – Partnered with friend and toy collector Mary Harris Francis to open their collections to the public by founding the Toy and Miniature Museum (now the National Museum of Toys and Miniatures) on the campus of the University of Missouri-Kansas City. Her work with miniatures earned her a Crystal Award from the International Guild of Miniature Artisans, an Award of Excellence from the United Federation of Doll Clubs, and status as an Academy Honor member of the National Association of Miniature Enthusiasts.
1988 – Elected to the University of Missouri-Kansas City Board of Trustees on June 8.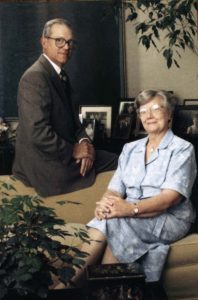 1997 – Kansas City Art Institute recognized Barbara's 40 years of dedicated service by awarding her an honorary doctor of fine arts degree.
1998 – On her 50th anniversary with the company, the Barbara Marshall Award was established at Hallmark Cards, Inc., in honor of her positive influence on Hallmark's creative division.
2005 – Awarded a challenge grant to the Kansas City Art Institute. The Marshall Challenge was met within two years, enabling the school to double the value of its endowment.
2006 – Missouri Governor Matt Blunt presented Barbara Marshall with the Missouri Arts Award in recognition of her lifetime support of artists and the arts.
2010 – Led efforts to construct a research facility at The Land Institute in Salina, Kansas.
2018 – Provided lead gift to construct new dormitory at the Kansas City Art Institute which is named in her honor.
A partial list of organizations Barbara Marshall has supported
National Museum of Toys and Miniatures (formerly the Toy and Miniature Museum of Kansas City) 
Kansas City Art Institute
Nelson-Atkins Museum of Art, Kansas City
Children's Mercy Hospital and Clinics, Kansas City
Kansas City Symphony
University of Missouri-Kansas City (UMKC)
Conservatory of Music at UMKC
The Land Institute, Salina, Kansas
The United Way of Greater Kansas City
The National Arboretum Bonsai and Penjing Museum